About the Metro K Line Northern Extension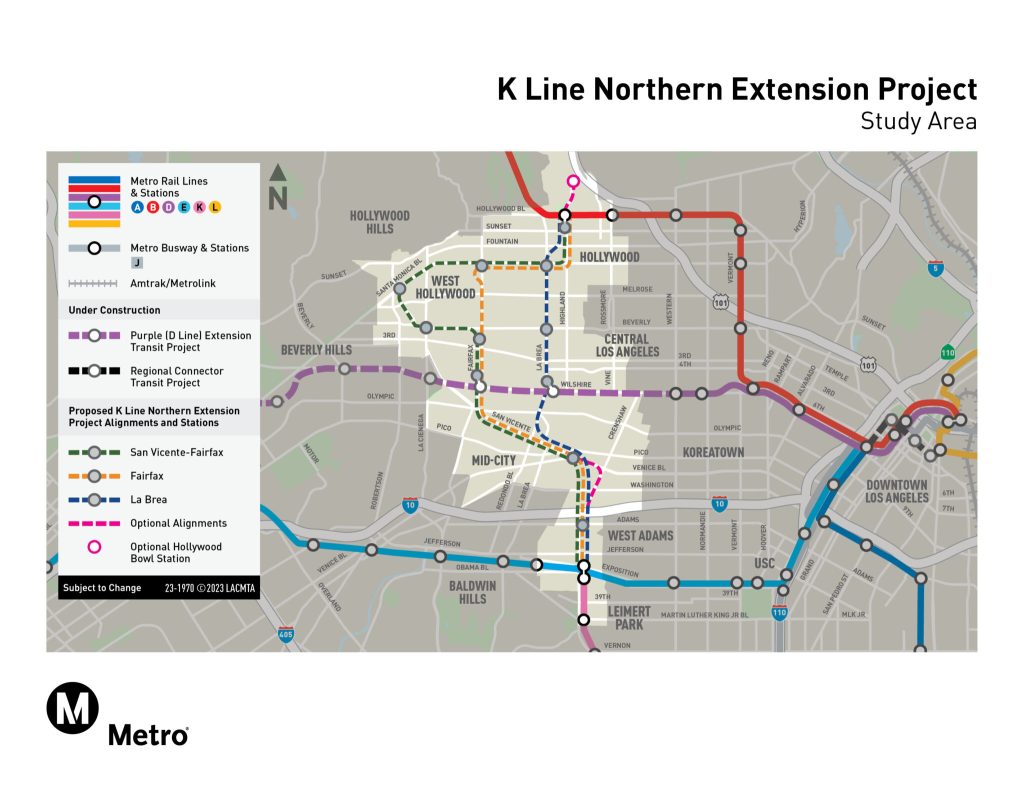 We're working to bring the Metro K Line (formerly the Crenshaw/LAX Line) to Mid City, West Hollywood, and Hollywood. Imagine connections to four other Metro lines and key destinations like West Hollywood, LACMA, the Grove, Cedars-Sinai Medical Center, and the Hollywood Bowl. Where will it take you?
The City of West Hollywood has long supported increasing its transit options. In December 2015, the West Hollywood City Council approved a plan to conduct outreach and build regional partnerships in support of a Metro rail project that would extend the Metro K Line (formerly the Crenshaw/LAX Line) to West Hollywood and connect to the Metro Red Line. Since 2015, the city has facilitated local and regional community outreach around the effort to accelerate the K Line North project through two City facilitated advocacy groups: locally through West Hollywood Advocates for Metro Rail (WHAM) and regionally through the broader All on Board Coalition. Project updates and opportunities to provide public comment in advance of key Metro Board decisions on the project are coordinated through both groups. Sign up for email updates at the "Stay Connected" tab above.
Studies are underway for the Metro K Line Northern Extension (K Line North), which will extend the line north through Mid City, West Hollywood, and Hollywood. By connecting four Metro rail lines, this key project will transform regional mobility in the most congested part of LA County, attracting more riders than any light rail line in the nation—over 90,000 daily! The first segment of Metro's new K Line (formerly known as the Crenshaw/LAX Line) opened in October 2022 from Metro's E Line (Expo) to Inglewood and Westchester with seven new stations like historic Leimert Park and Downtown Inglewood (where the future Inglewood Transit Connector will take riders to venues like Kia Forum and SoFi Stadium). Further south, the long-awaited LAX airport connection will open in 2024.
The proposed Northern Extension of the Metro K Line light rail transit line (K Line North) will provide critical north-south connections to, from, and through Mid City, West Hollywood, and Hollywood and leverage previous regional investments to enhance and expand the existing Metro regional rail network.
This site is interactive—so you can get an idea of what riding K Line North would be like! Take a look around to find out more about the project and its benefits and how you can get involved, as well as the four stations under consideration for WeHo, what's nearby, where you could get from each station, and how much time you could save. Thanks for stopping by and let's #FinishTheLine!